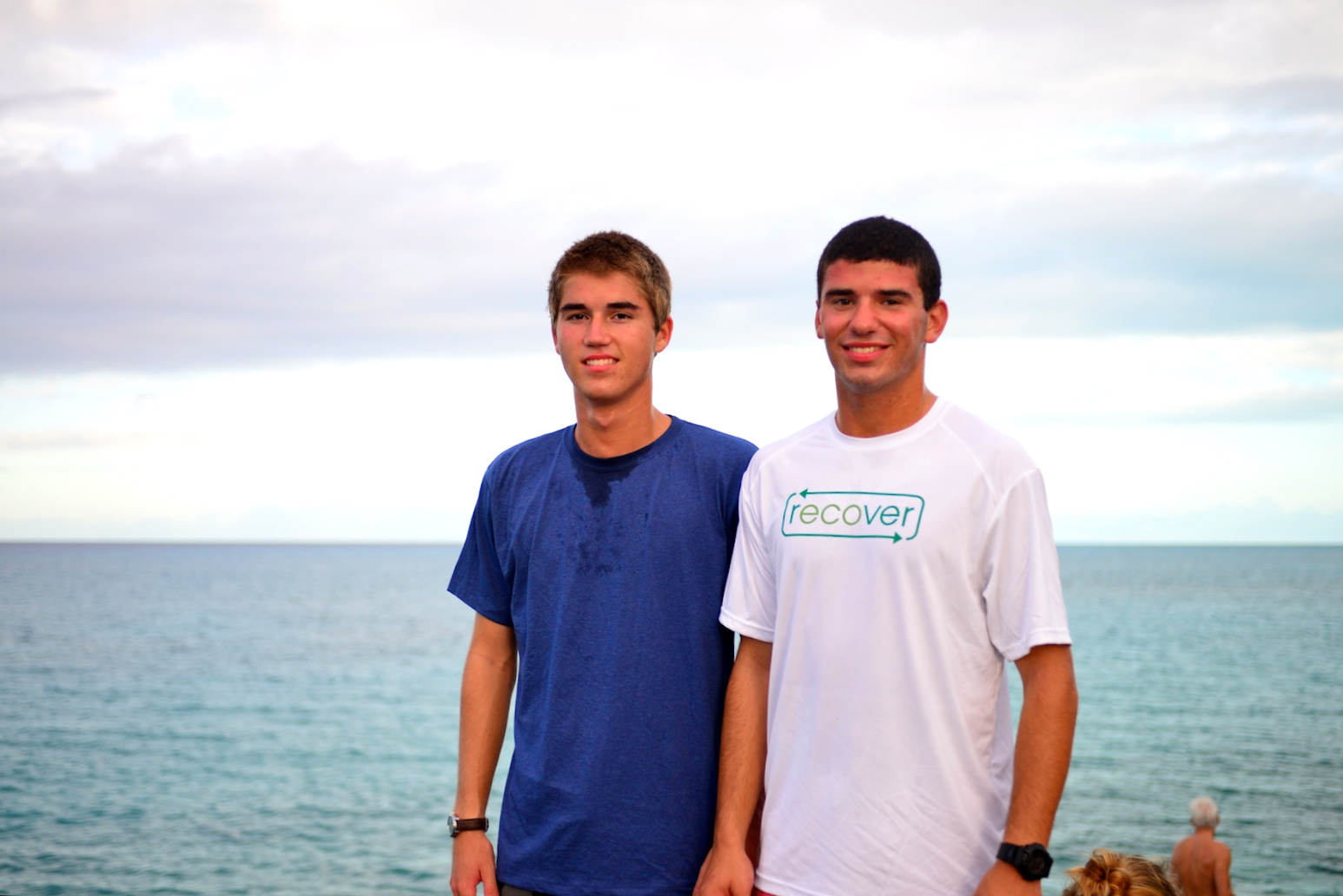 When we unveiled our updated Island School logo last fall, we also got to work on updating the Island School uniform to match. In fact, it was two Island School alumni who really got the ball rolling. During their Fall 2012 semester, Ryan Schendel and Jake Varsano decided to take on this daunting task as their Human Ecology final project. Determined to not only live, but also wear, The Island School's mission to live well in a place, they began to contact vendors and test products. By the end of the Fall 2012 semester, they finally found their match in Recover Brands, a small eco-clothing start-up based out of Asheville, North Carolina that shares our same devotion to conserving the environment. We are excited to announce our partnership with Recover Brands, and introduce their products, made from 100% recycled apparel. We also continue to be proud of our students' efforts to be leaders effecting change, especially once they leave The Island School.
"Jake and I saw an opportunity to apply the sustainability factor of The Island School campus to the clothing we wear – this was a chance to take responsibility of the origins of our uniforms and campus clothes and recognize the impact our clothes had on the environment. I think the project was and will continue to be successful because now Island School students can be proud of the clothes they wear every day because they know the story, know their environmental footprint, and see a continuation of the campus sustainability from the moment they put their shirt on.

As for me, I know after I got my Recover IS shirt, it reminded me of our sustainable campus. Every time I put it on at home, I remember how it's different from my other shirts, and it reminds me of Island School's sustainability. I think it's important in the future for IS students to learn about Recover and their clothing, just like when we got a campus tour of our sustainable systems. This way, their IS clothing can have an impact, just like it does for me." –Ryan Schendel F'12

"I am proud to say this new clothing brings The Island School another step closer to its mission of sustainability. I hope our project inspires future students to aim their projects towards something they feel passionate about and are confident will help improve our campus, allowing it to be the best model of sustainability possible. I would also like to note the efforts that were put in on campus by all who helped once Ryan and I went home. To quote Maxey, 'It is not about the guy with the idea, it is about the guy who recognizes the idea and helps run with it.' Well, something like that. It is time that we started wearing our mission!" –Jake Varsano F'12
If your wardrobe needs updating, or your old Island School t-shirt needs replacing, visit the new online store: http://www.recoverbrands.com/store/category/the-island-school.