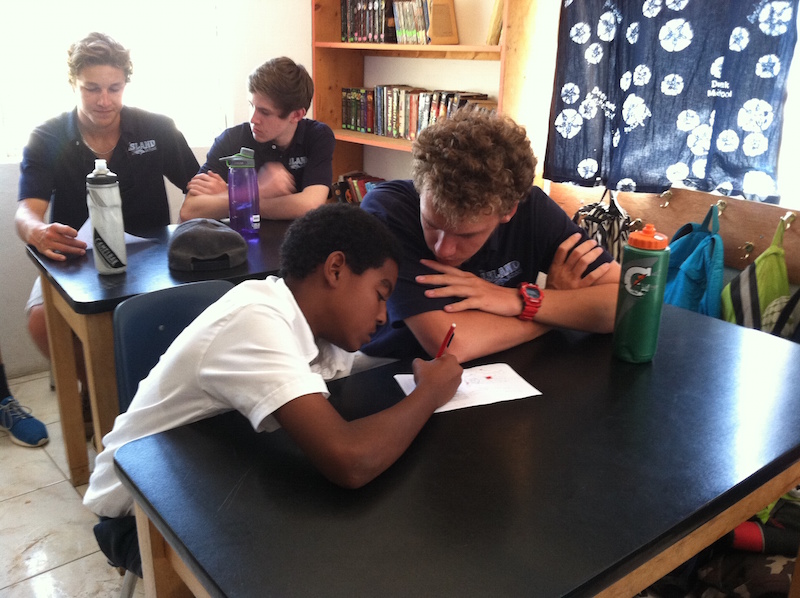 At the beginning of the semester, each Island School student is paired up with a 'buddy' from Deep Creek Middle School. Every Thursday at precisely 1:10 we meet at the flag pole and prepare to travel to DCMS to help them work on their final projects. There are a variety of projects ranging from AIDs and HIV awareness, to self-image for girls. Each group is a team of 6, three Deep Creek Middle School students (9th, 8th, and 7th graders) and their three Island School buddies.
This past Tuesday was no ordinary Community Outreach. Our group piled into a van and headed over to Tarpum Bay primary school for our drug awareness event led by Patron, a 9th grader at DCMS. Our group of 6 stood up in front of a class of 6th graders for the culminating event. We performed a short skit to educate about peer pressure and drug use. After the skit, Patron asked the kids questions about what they had just learned. It turns out we had left the questions we prepared at the school so we all had to wing it and come up with questions on the spot. The kids were eager to participate and with each question, around 10 hands shot up. After we exhausted the questions, Patron took the kids to the basketball court to show them the safe and fun alternative to drug use. We played three different basketball games which lasted around an hour and a half. Towards the end we got to take a break and cupcakes, lollipops, and lemonade were handed out. The kids were very excited to be outside, and it turned into a family event where cars stopped to watch and siblings came to join us. Although it veered a little from the drug education, overall everyone had a great time and Patron was so proud of how well his big event came together.
The group came back to the school with a sugar high and exceeded expectations. We had missed advisory time but it was well worth it. Our class had turned into an adventure and our buddies had become our close friends.
-Colleen McGuinness