Hello everybody! This is Caroline S. and Louis, your caciques of the day signing on. Yesterday morning we started the day off with a community run-swim where all the groups in the community—us, the young men's leadership retreats, the staff, and a few interns—gathered at circle and sang the national anthem and then began the run swim through the cuts to the sea wall and back to campus.  After losing just two people this time to sharks (just kidding) we proceeded to our morning classes.  In Marine Eco the cocoplums participated in many activities focusing on the interdependencies of species in the food web, using a rope to represent the connections between the organisms in the Bahamas Shoals.   We created a human pyramid to show the effects of a trophic cascade on an Ecosystem.  Later in the afternoon we applied these skills in scuba. We each observed the organisms noting how their form is connected to their function.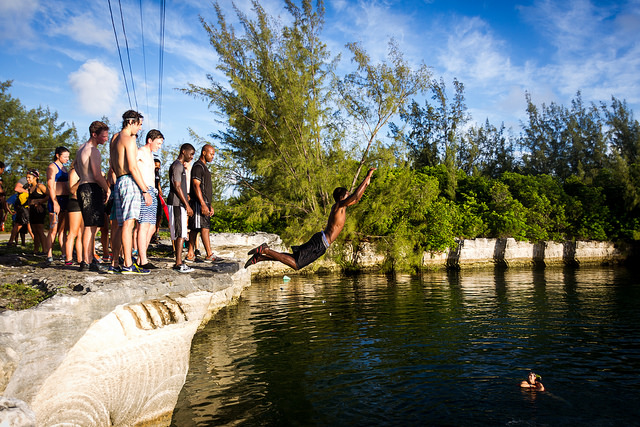 The broader Island School community participating in a run-swim!
That night we were able to participate in one of the best opportunities we have had so far: listening to and dancing with the Eleutheran students from the Young Men's Leadership Retreat. They were national champions in 2015 for the Junkanoo championship, and the experience was so much fun. Using drums, cowbells, scrapers, and bass instruments, the men created incredible beats while we all danced around and Maxey blew the conch horn. The performance surprised us all—the men played so well, creating a memorable experience for all.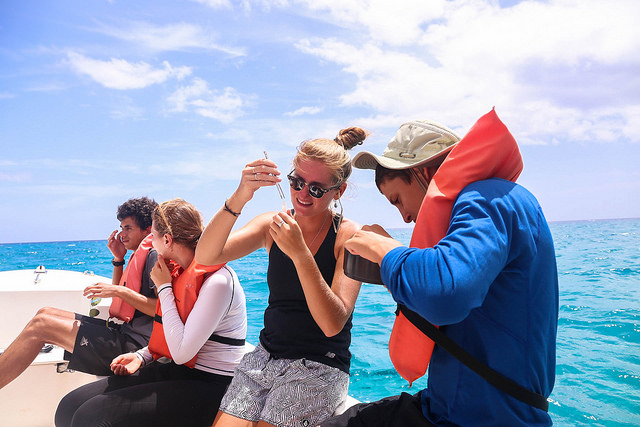 Students participate in research in the Exuma Sound
Though Louis wanted to choose a quote from a sunscreen bottle for the quote of the day chosen by the caciques, we ended up choosing "adventure is out there".  The highlight of my (Caroline) day was when I was scraping out the sink snacks during dish crew, sink snacks are left over food scraps that clog the drains. Yum!
This is Louis and Caroline S., your caciques, signing off!