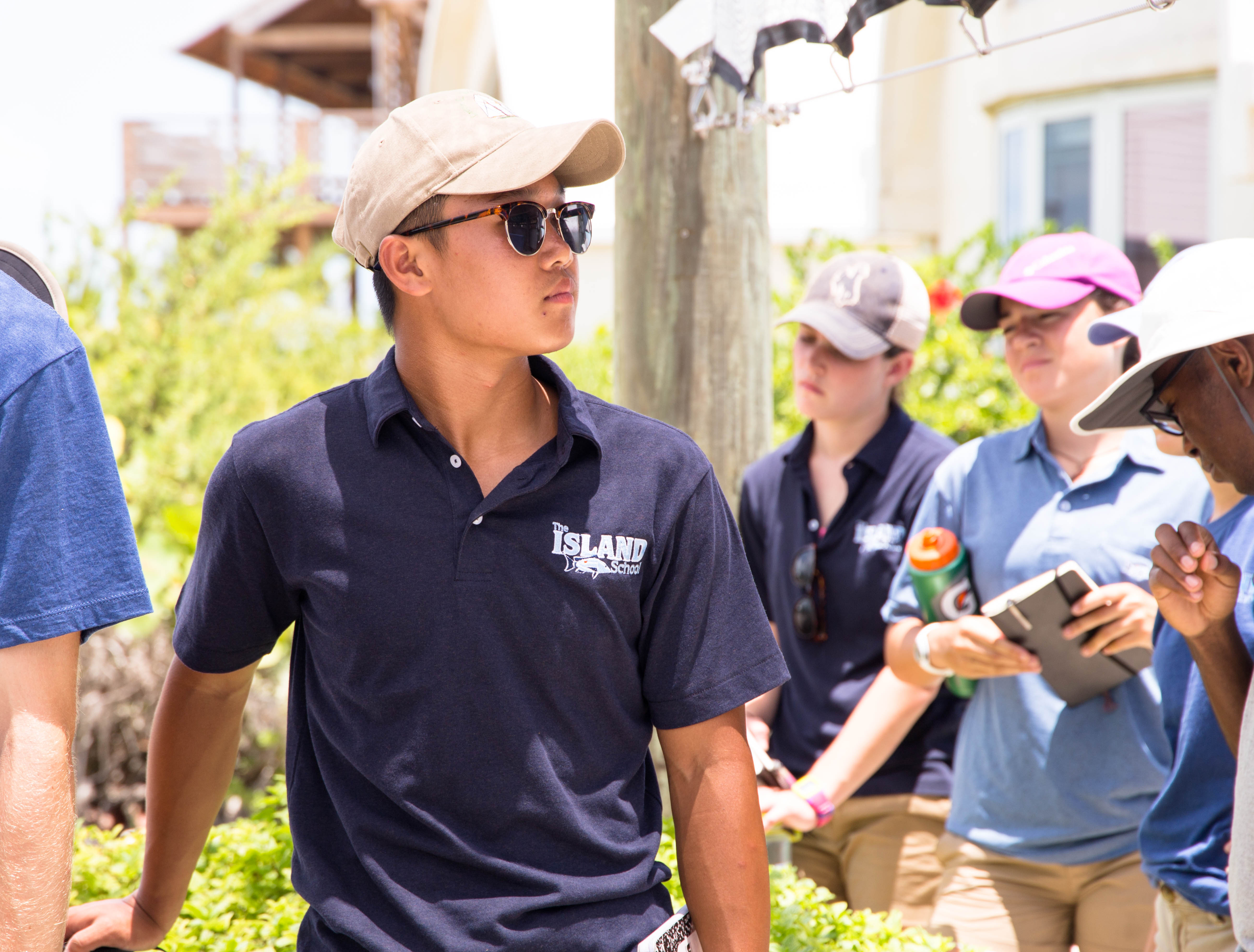 Students visit the Island School's facilities, including the aquaponics farm, to learn about sustainable living.
Hi! I'm Elodie Marran. To tell you a few things about myself: I'm a rising senior in high school, I live in London, England, and I was nominated as Cacique last night along with Matthew.
Yesterday marked the beginning of classes for the Island School summer term students. The people in the tourism and development class embarked on an adventure down the island for three nights for the class and their 24-hour solo. I started my sustainable systems class, which I'm super excited about, and we began by discussing what sustainability means to us and how to best achieve your goals of sustainability in a place. In the afternoon my class went over to the center for sustainable development where we learned about solar energy and actually constructed our own grid-tied and off-grid solar systems that powered lights and fans. After dinner we had an evening class where we watched Food Inc. I have already learned a lot in my sustainable systems class and, even after the first day, I found some new topics of interest that I want to explore more in depth.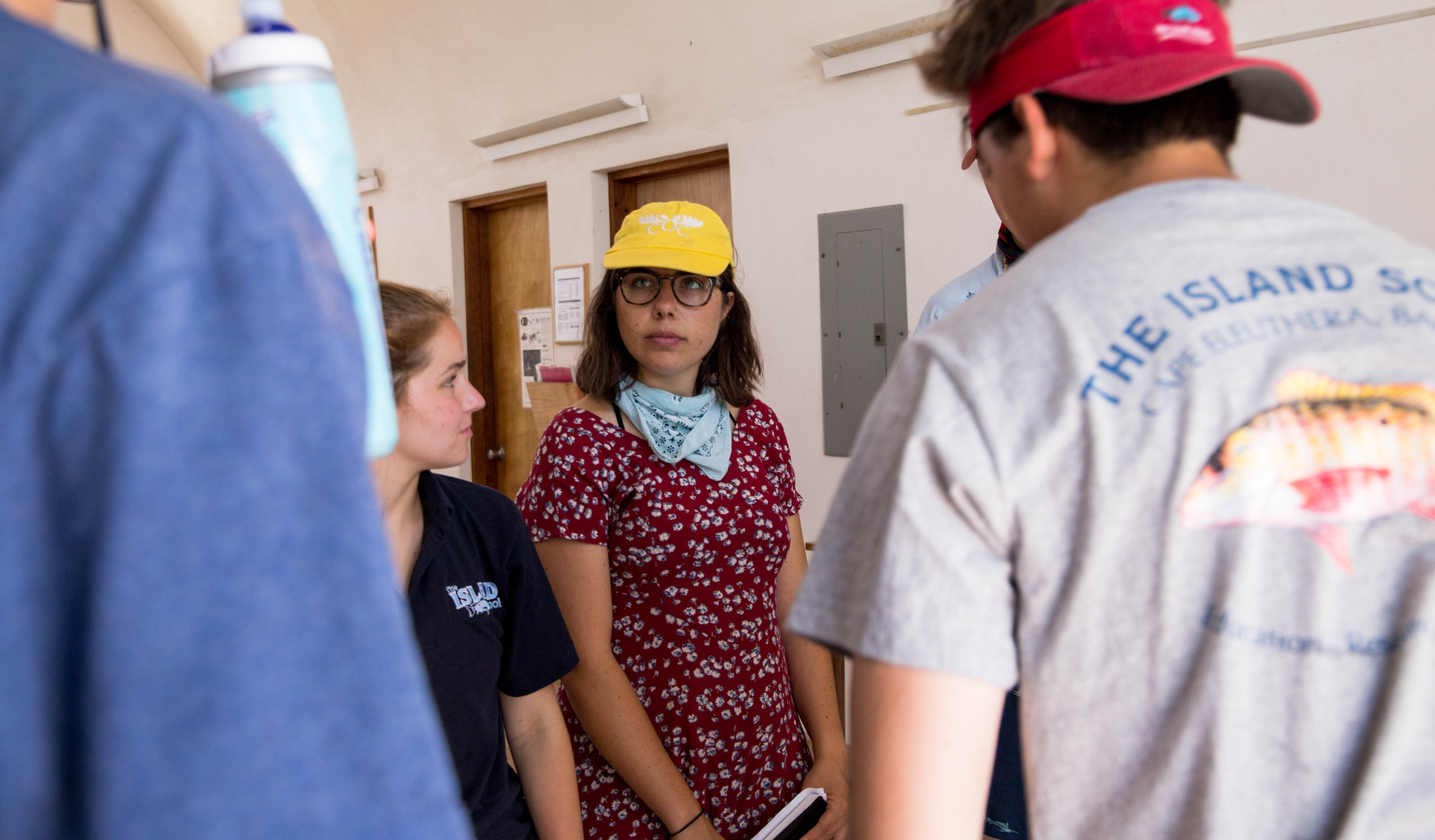 Anne, one of the summer term instructors, answers students' questions regarding the way that the Island School and Cape Eleuthera Institute operate.
On Thursday morning, the Island School summer term students had a community run-swim along with the resources team and the South Eleuthera Boy's Camp. The run-swim was one with high spirits and motivation in everyone. From people helping others up the wall, which is a part of the route on these run-swims, to cheering everyone right to the end with high-fives and smiles once someone reached the flagpole. The reward of the tough run-swim was french toast and sausage for breakfast.
With everyone settling into their own daily routine at the Island School, the evenings have started to become quieter with everyone concentrating on their work or tired out after a full day of classes. It can be an exhausting day but we always get the most as one can possibly get out of a day.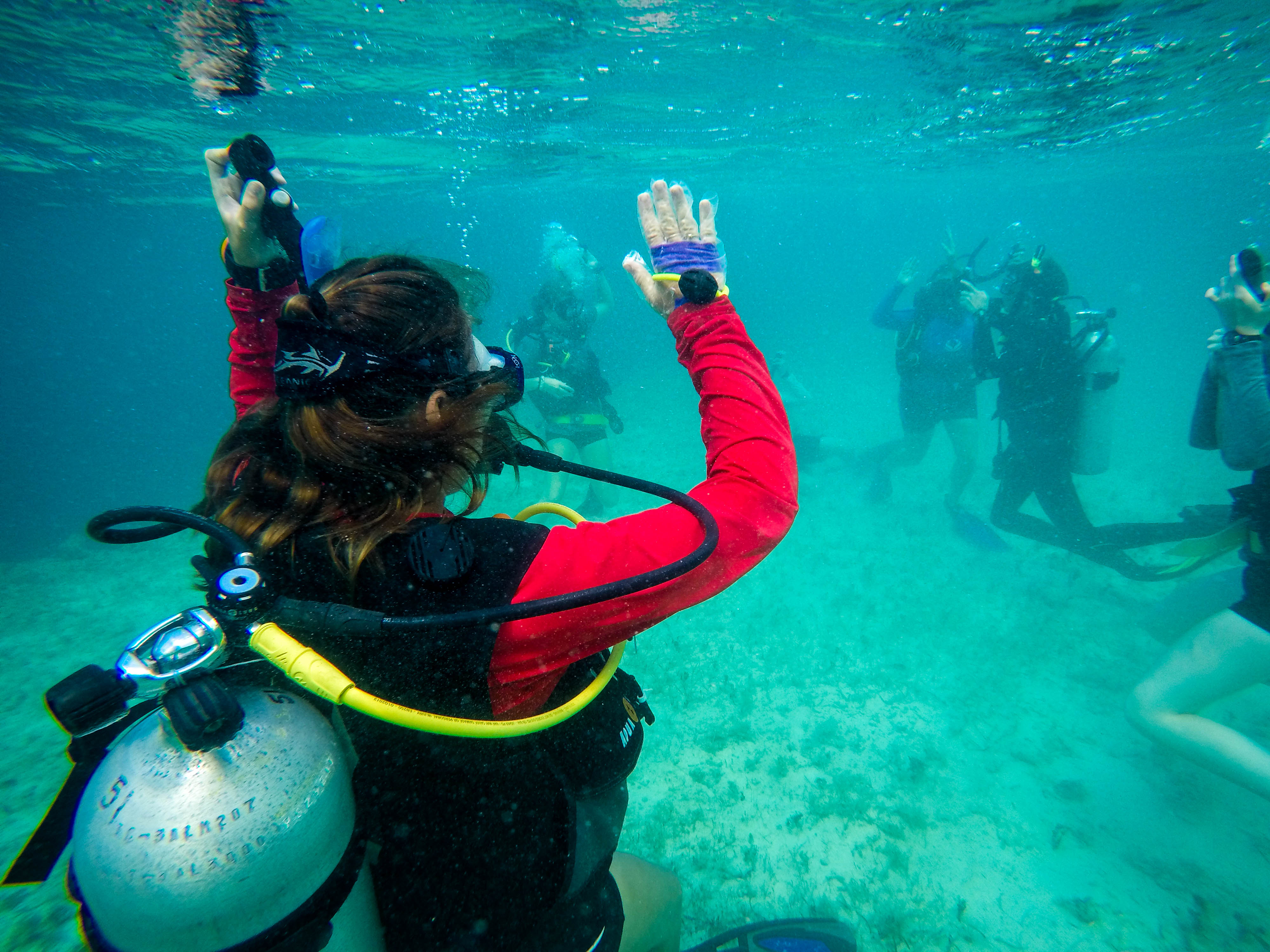 Lead by a SCUBA instructor, students participate in one of their first dives.
Hey there! I'm Matthew, and I am a student in the Island School's summer term! A little background; I will be an incoming junior next school year, and I live in Brooklyn, New York. I go to the New York Harbor School, a technical New York City public high school with a marine-based focus. I study marine biology as my focus, so I guess it was appropriate that I decided to attend the Island School! Ok, enough about me, more about what amazing things my classmates and I have done throughout their first week!
At this point, most of the students have received their SCUBA Diving certification from PADI. Very exciting! This process was a tough one, especially for me. In order for you to receive your certification, you must complete a list of skills underwater, some of which include breathing without your regulator, clearing water out of your mask, using a compass, taking off all of your gear and putting it back on, and many, many more skills. One skill in particular that I had trouble mastering was putting water in my mask and trying to clear the water. After the first dive, I asked Liz if I could sit out of SCUBA, and what did she say? OF COURSE NOT! As an Island School student, you must learn to persevere through challenging moments. Every student will have a moment they will struggle with, but here you will have to learn to cope with your struggles and overcome them. I think a lot of the culture of this school is determination and perseverance. So the next morning was a sleep-in morning, but the teachers noticed I was having some trouble, so they proposed the day before that I should come in early to try to master the skills I was struggling with. I agreed. I was freaking out, thinking about all of the worst possibilities that night, but when I got there, I lived in the moment and nailed it. In a couple of days, I was a certified PADI SCUBA Diver!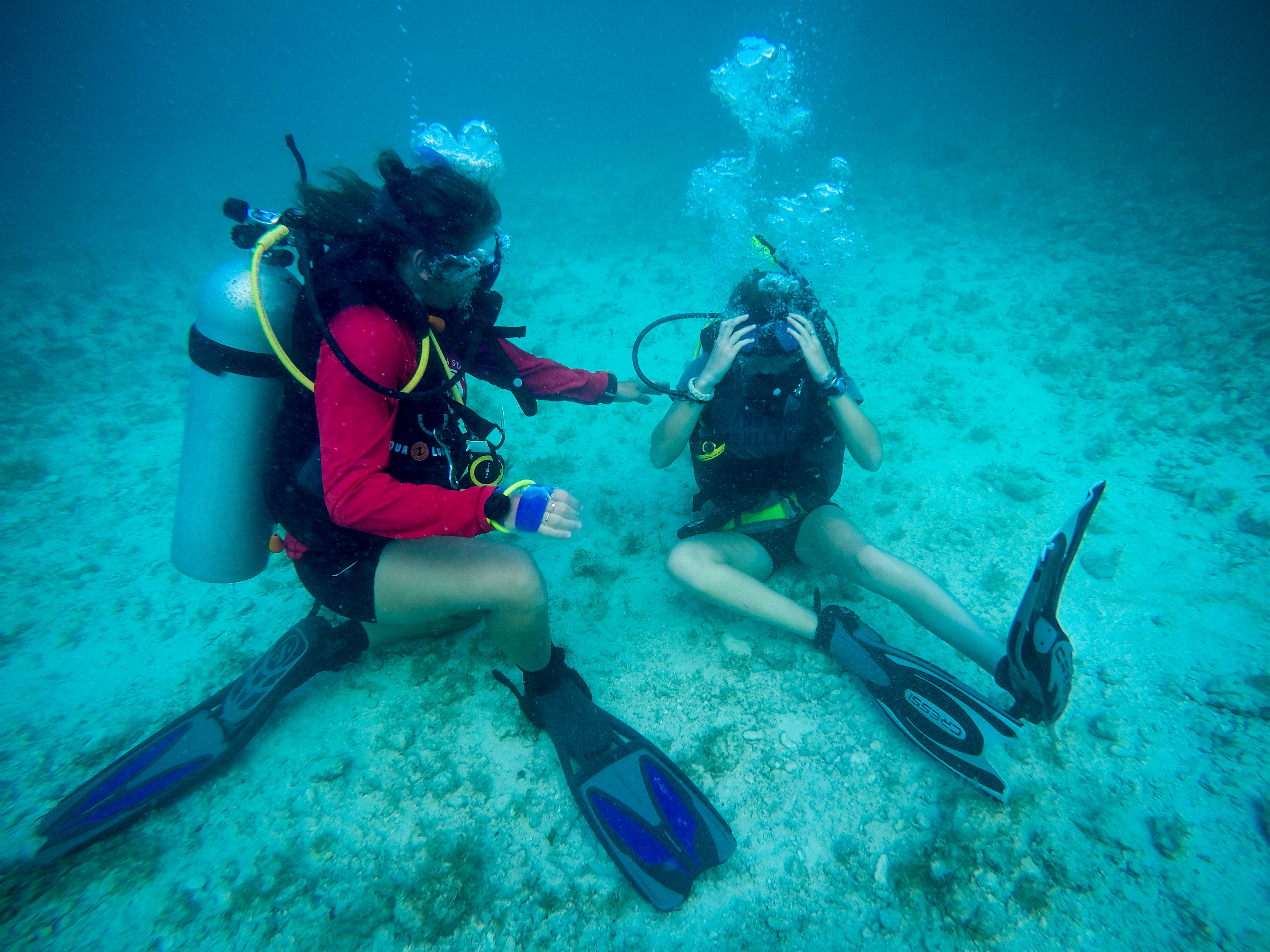 Sophie, a SCUBA instructor on campus, works with a student to help them clear their mask. 
I strongly believe that part of the reason I was able to master the skills I had not already completed, was because of the great community and my classmates who supported me the whole way through. On the morning of the day that I mastered my skills, Adaam led a guided meditation. As I stepped on the edge of the dock, getting ready to jump into the water, I hear chants of my name. "Matthew you can do it!" "You got it, Matthew!" "I believe in you, Matthew!" I look to my right, and see all of my friends cheering me on, giving me so much confidence. I truly believe that because of that motivation, I was able to master my skills. The Island School community is such a special one.