During the fifth day of each academic rotation for Human Ecology: Food Systems, students get the opportunity to participate in one of three CEI research projects: turtles, sharks, and bonefish.  Here is an excerpt from our day on the field working with the turtle team on Friday!

It was a gloomy Friday morning in terms of weather, but The Island school kids were ready to go. Smiles, music, and gossip about turtle names drifts through the van on our way to Half Sound, an embayment 45 minutes north of school. Tagging turtles for research is not for the faint-hearted, and the Island School team showed up ready to get some catches. After a long ride to the creek we finally arrived, ready and waiting for the first turtle to cross our path.  After a small talk about the movement of the tides and how it affects the destination of the turtles in the creek system, we quickly set up the net for the first capture. Turtle-ing requires patience and interaction with your peers. As we quietly form a line yards away, we face the net and walk back kicking and splashing as loud as we can. This may sound easy, but after a few hours and a mini lunch break in the water, we found ourselves worried that the turtles had outsmarted us. With our doubts we set up our net with a different technique. Instead of keeping the net in one location, making it easier for the turtle to escape, we moved the net around the people herding, hoping to get the turtle in the circle. After turtles made it out of the circle by jumping over the net and moving under the net, we made our first catch!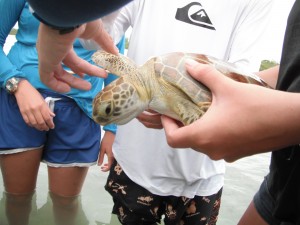 After the catch, we quickly proceeded to take care of business.  Turtles are able to live outside of water, but we always wanted to make sure the turtle is not stressed through the process.  We went on to tagging where we insert a tag on each of the turtle's front fins so that if he or she was to show up in a new location and somebody found them, they would know who to contact and get an idea of growth rate. We also recorded the species, width, weight, and length of the turtle. The process was not lengthy and the turtle swam off unharmed and quickly. Although this green sea turtle was our only catch of the day, The Island School crew and the help of a few researchers from CEI put in the effort, making this a successful quest for turtles!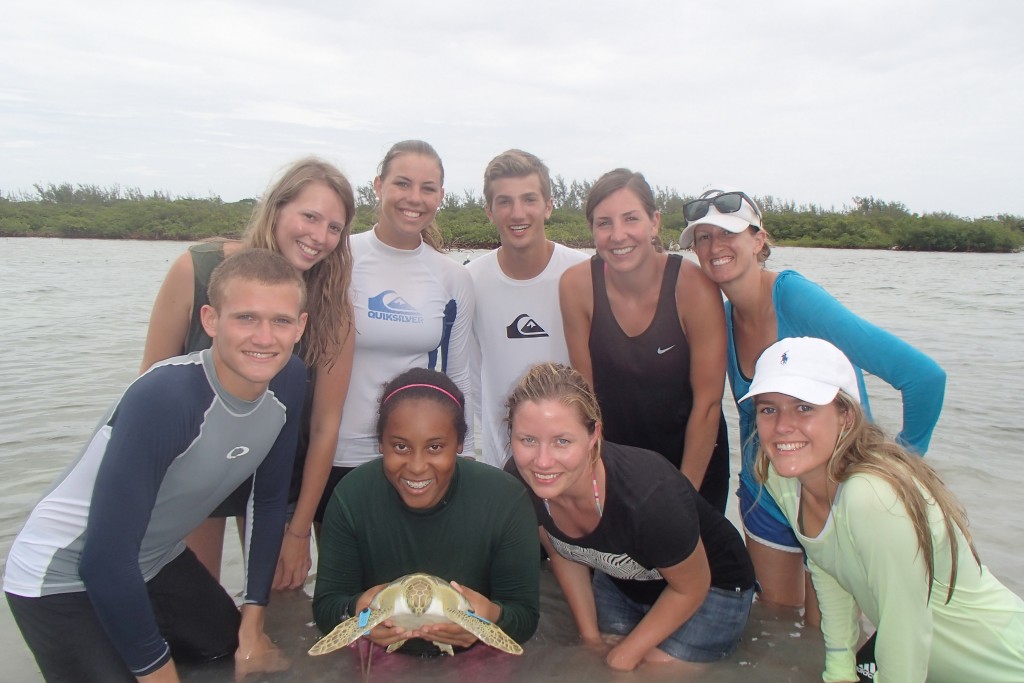 Thanks to Gabi for this Student Update!