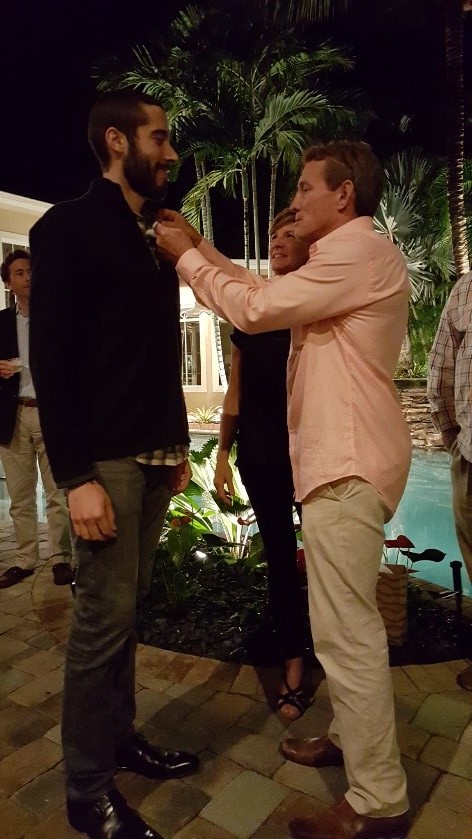 Drew Fink (F'05) gets pinned by Chris and Pam Maxey during the evening celebrations hosted by longtime supporters Les and Wendy Morris
In January, the Board of Directors for The Island School gathered in West Palm Beach, Florida for one of their three annual meetings. The purpose of the gathering was to celebrate transitions and alumni energy as well as share ideas on the direction and focus of the school as we head into 2016. Alumnus Drew Fink (F'05) was pinned with the starfish as he was welcomed into the ranks of the Board during this, his first meeting. Alums have consistently shown strong leadership and passion for The Island School and its mission of Leadership Effecting Change by volunteering for the Board. Drew was welcomed by returning Island School alums on the Board:
Francesca Forrestal (F'99), Thatcher Spring (F'99), Meg Bunn (F'01), Johann Scheidt (S'02), Nick DelVecchio (F'02), Greg Henkes (S'03) and Peter Meijer (S'05)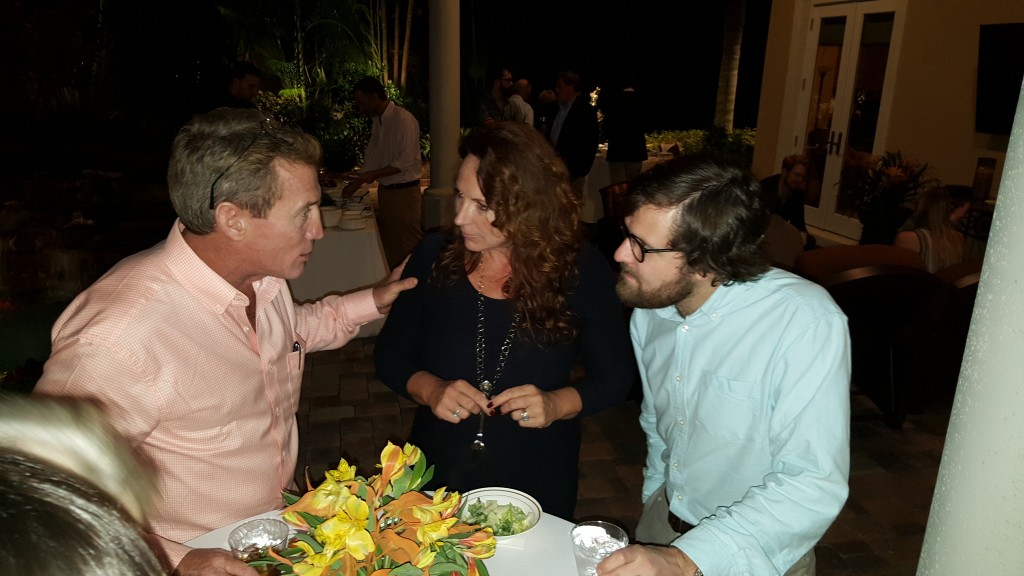 Chris Maxey talks with Board members Ande Frost (Parent F'04, S'09, S'13) and Greg Henkes (S'03)
Do you want to be part of the The Island School's Board and play a significant role in the vision, direction and execution of the future of the school? We are reaching out to all Island School, Cape Eleuthera Institute, and Deep Creek Middle School alumni who are at least two years removed from college and would like to submit an application to the nomination committee. If you would like to be considered, and you are passionate about what we do, please write to alumni@islandschool.org with a resume and cover letter describing your interest. The basic requirements for membership are as follows:
Minimum of two years of experience in the work force.
Demonstrated service to the organization after your semester/summer term.
Skill set or demonstrated interest relevant to the work of the Board.
Consistent participation in CONCHtribution, the annual alumni giving campaign.
Accepting of financial obligations surrounding travel to meetings and other board engagements.
If you are interested, we can send you the Board's handbook for you to learn more about what the expectations for a potential two year commitment entail. The two primary expectations that are held of all Board members are attendance of all three annual meetings (Boston, MA in October, Nassau, Bahamas in January and Eleuthera itself in April) at your own expense, and that The Island School is within your top 3 philanthropic commitments. If you have any questions or simply want to know more, please do not hesitate to reach out to alumni@islandschool.org and we will respond as soon as possible.