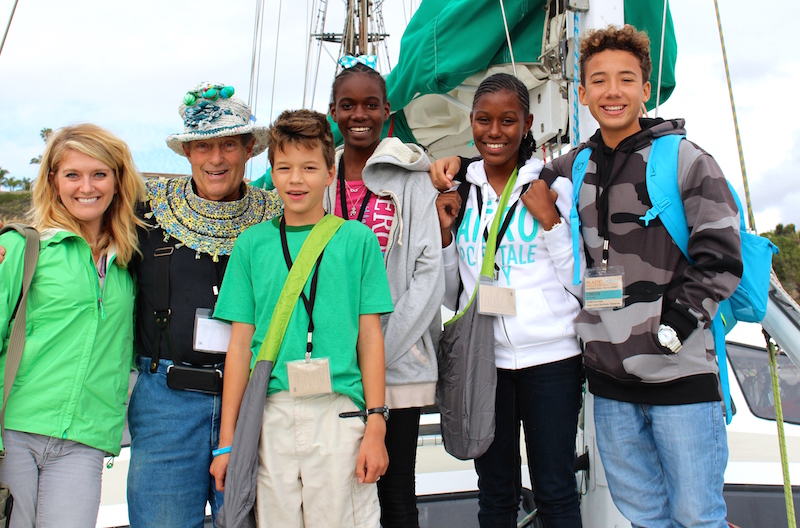 Hi! My name is Simeon Bethel and I am a 13-year-old youth activist that attends the Deep Creek Middle School and I am passionate about the problem of plastic pollution in our oceans. At my school, I am part of the Eco-Club where I am treasurer. Our school's Eco-Club is what initiated our green flag certification and DCMS was the first school in the English speaking Caribbean to be certified with the green flag. We have solar panel water heaters and fan switches that regulate the amount of time a fan can be left running in order to prevent them from continuously running throughout the day–to save energy. The Eco-club also orchestrates many different beach cleanups and events that inform the public about the damages that plastic pollution has on our environment and beautiful waters.
To support our learning as leader and environmental activists, myself and three other students were given the privilege to travel to Dana Point, California to attend the Plastic Ocean Pollution Solutions (POPS) Conference. This event took place on February 27 to March 1, 2015. At this conference, many other youth activists from all over the world came to share their own projects or solutions to plastic ocean pollution. There were many inspirational speakers about the topic of plastic ocean pollution and also many world renowned scientists that have made remarkable discoveries and advancements towards solving the problem of plastic pollution in our oceans.
This whole event took months and months of planning, project finalizing, brainstorming and orchestration. The Deep Creek Middle School's project is to have large-scale beach cleanups on certain beaches and then install proper signage on the beaches. For example, one might say, "150 Pounds of Plastic was Collected from Lighthouse Point Beach. Please Help us in Our Effort to Keep These Wondrous Treasures Clean, Green and Pristine". Also, prior to and during our trip to California, the Eco-Club started to think about the fact that cleaning the beaches is not the answer to all of our problems–it is simply helping the cause. We decided that we should also inform the public. We should inform the people that don't really know that much about plastic and its harmful effects on the environment. By educating the population of this island, and hopefully The Bahamas, it will target and stop the problem of plastic ocean pollution at the core.
Thankfully, this conference that we attended allowed us to improve our project to get the best and most effective results out of the whole event. All in all, the Plastic Ocean Pollution Solution Conference was an amazing experience for me, my peers that attended, our teacher who came with us and all of the other inspirational speakers and students that attended. It was definitely an inspiring and life-changing event. Keep an eye out for DCMS's Plastic Pollution initiatives and join us by being part of the solution.