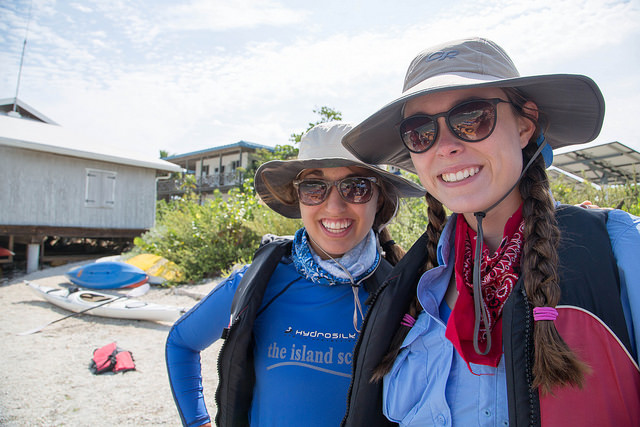 After seeing the first two kayak groups return from their 8-day kayak adventure a different skin tone and their hair a couple shades blonder, I was hopeful for the day I would come back, looking as beautiful as they did. However, on the third day of kayak, K4 quickly realized that we would not have the same, sunny experience.
The day started out daunting with our leaders of the day informing the group that we had a long, twelve-mile paddle ahead of us. We needed to get so far because the following day's forecast was not as good for kayaking.   So we put on our life jackets and spray skirts and launched our kayaks. The weather was dark, but fine until the last mile of paddling. Out of no where, the rain fell like a sheet.
As we pushed through the water and weather, we kept a tight pod and chanted a tribal song that then turned into yelling, then screaming. It was hilarious, magical, and miserable all at the same time. I noticed a huge grin across my face, as well as maybe a few tears.
When we finally made it to the beach, we were so ready to relax from our hard day of kayaking. The beach in front of us awed us. It looked like a different island, something more tropical and mountainous. Once we hauled up our kayaks, we all ran into the massive turquoise waves and body surfed in the rain. I couldn't believe where I was, the warmth of the waves that surrounded me, and the amazing friends that tumbled with me through the water. It was crazy and exhilarating and an experience I will remember forever.
-Nelle Cabot