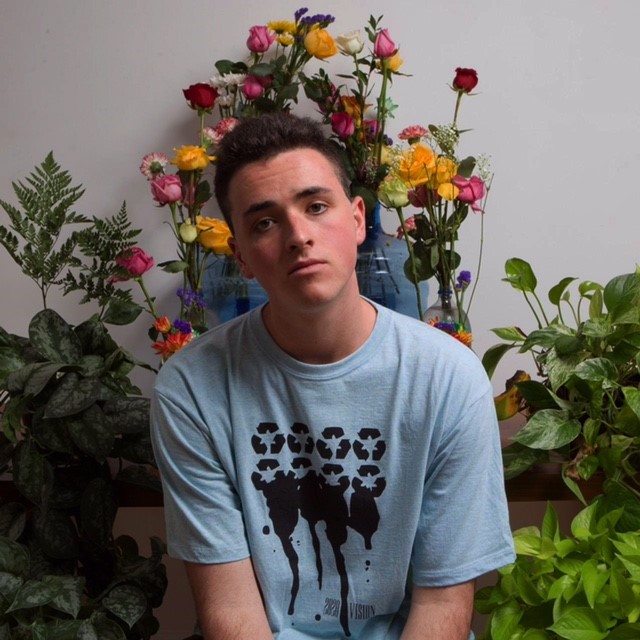 Recently, The Island School had the chance to catch up with Devin Gilmartin of the Fall 2014 semester. We discussed a range of topics from his time on island to his current project with Recover Brands where he developed a t-shirt made from 100% recycled materials in honor of the recent Paris Agreement, a revolutionary document crafted by the nations of the world at the United Nation's COP 21 meeting in Paris last year which was signed by 177 countries on Earth day this year. Devin will be attending the London College of Fashion this fall with the goal of transforming the fashion industry into a paragon of sustainability. Below is a transcript of our interview that was simply too powerful to cut up into a standard article. 
Q:  Could you give an update on yourself and what you have been up to since returning home from your semester?
A:  Returning from The Island School was perhaps the only thing more surreal than the experience itself. It was a spark of energy that will last my lifetime. When you spend 100 days so emerged in every aspect of a place, it's a lesson on how you should treat everything in life. No aspect of living at The Island School goes unconsidered. That's been my approach since. Just trying to soak up as much as possible from every experience. It's the best way to live, appreciating everything for what it is and why it is. I think that's what happens when you're pushed to what you think are limits in the 100 days there. There's a system in place that allows you to thrive. The people and the resources are there and it's up to you to decide how to use them.
I tried to really push my limits physically at The Island School. Taking on both the super swim and the half marathon and taking the forty-eight-hour solo experience to fast and feel what it would be like to live only on water for two days, I learned it's mind over matter. You learn that very quickly on Eleuthera.
Carrying that over to post Island School life, it was running the Brooklyn Half Marathon in the spring of 2015 and then, in November, running the New York City Marathon.
Having had the opportunity to graduate high school a semester early, I am spending the second semester of my senior year of high school working at Milk Studios as a social media content curator. It's an amazing job that I would say consists of what I would have been doing in math class anyway. It's about curating images and inspiration and creatively presenting that in the most beautiful way possible to an audience.
The Island School was about realizing the potential people have to do things that can make a difference. The 100 days you spend there are about developing that realization within yourself, that you are capable of being that type of person. When the 101st day comes and you leave the island, that's when the real Island School journey begins. The opportunity to apply what you learned to your life and have it make an impact on others.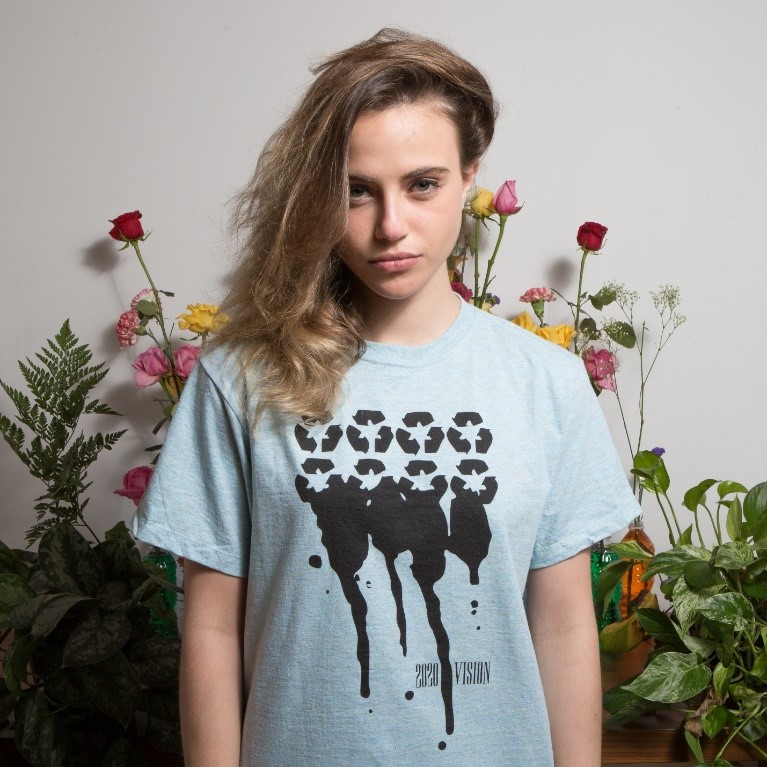 Q:  How did you get involved with Recover Brands and what inspired you to create the 2020 Vision t-shirt?
A:  A collaboration with Recover had been on my mind since I first heard about it. Having always been interested in fashion, it stuck out immediately to me as a brand to learn more about. I of course had this really intense relationship with the product before Chris even introduced me to Bill Johnston (President of Recover Brands). Wearing it every day from sun up until sun down, I learned how it felt, how the fabric performed and how it looked. It was our uniform and for everyone to feel like they were part of The Island School down to even what they were wearing, that it carried the same message of sustainability and mindfulness, it was powerful. I think that's what really made this collaboration so natural.
When Bill and I first started speaking about a collaboration, it was a general conversation about how we could approach a partnership that would appeal to an audience that was currently outside of Recover's reach. I felt like I had something to offer in that regard and so we bounced ideas around. That was early in the year. It was really a few weeks ago that the idea for 2020 Vision came into fruition. I follow climate change and environmental issues closely so the opportunity to release a collaboration on Earth Day and the day in which the Paris Agreement, the first ever universal climate agreement, was going to be signed, it was perfect. I proposed the idea to Bill and Chris, they approved immediately, and the designing began. The name 2020 Vision comes from the idea of a vision of the future coming to life with the Paris Agreement in place. It's up to us to bring it into existence.
For the graphics, I collaborated with a very good friend of mine, Luis Lizarraga. He has a multidisciplinary approach to design and his Paris based studio, Studio LGLR, had the perfect aesthetic for what we were going for. With the time difference between New York and Paris, it was hundreds of emails and texts between the two of us in the past few weeks, just going over getting everything from the font to the colors right, that lead to the final decisions on the graphics.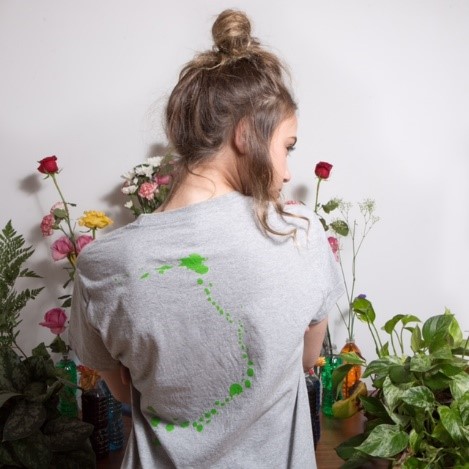 The front of the shirt features eight recycling symbols, representing the eight plastic bottles it takes to make one Recover shirt as well as text reading 2020 Vision. The back of the shirt pays homage to the island of Eleuthera.
What really made 2020 Vision go from a simple t-shirt to what really became an art project, was the message behind the photoshoot we did. My good friend and photographer Davon Chandler photographed the shirts on Charlotte S. McKee who did a great job portraying the attitude of the collaboration.
I also added a few textile pieces I wove using Saori, a Japanese weaving technique. The three pieces feature recycled fabric scraps and even cut up metrocards as an ode to a place I get so much inspiration from, that being the subway and the people I see on it.
The set of the photo shoot really put the finishing touches on the project. It was a juxtaposition of nature and pollution, using recycled water bottles as vases for flowers. It's a subtle detail but perfect for pushing the idea of reintroducing one thing as something completely different, presenting up-cycling as a lifestyle.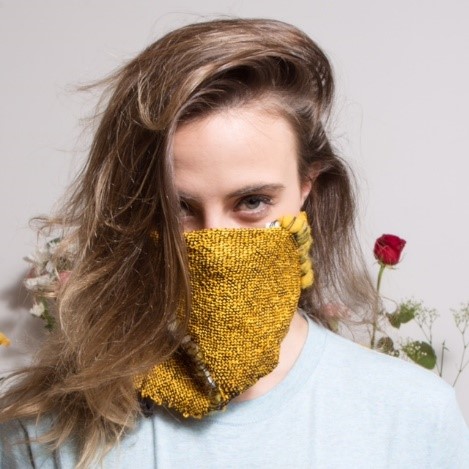 Q:  How long have you been interested in what the UN is attempting to do in the fight against climate change? 
A:  Climate change has become this topic that people enjoy debating but at this point, it's no longer a debate. Its time to come to terms with the fact we are facing a potential disaster in our lifetime. It's no longer a situation we can just ignore and say "That won't happen for a while".
In the fashion industry, that ignorance is also a marketing scheme. The idea that every season needs to be represented with more and more clothing and pre collections that end up sitting on shelves, it's become a real problem. I think it's unfair to place the blame on consumers at this point. The world is set in its ways because the people in power don't want to risk their positions to try to initiate change. For that same reason, the fashion industry has suffered tremendously from a lack of awareness. The old guards of fashion need to be overthrown simply because it's unrealistic to continue as an industry in such a manner. It sits only behind the oil industry as the most polluting industry in the world. The "Eco-friendly" marketing schemes of companies like H&M should make consumers angry. It's a play on the nature of buying goods for pleasure. Conspicuous consumption is easier to stomach when you feel like the product is made responsibly. The truth is, though, it's not the case. The people making the clothing are in unimaginable conditions and these huge companies ignore that. That's the reality.
Q:  Did the Island School play a role in furthering your interests in the environment and humanities role in it? Was this something you have always found interesting? 
A:  The Island School made me realize there was an opportunity to merge my passions to help the world. It was through being provoked to consider fashion through this lens that made me realize the amount of opportunity that lies within the subject of sustainable fashion. It's an issue that needs immediate attention, attention that can only be brought by this generation.
Q:  What is next for you? Do you see yourself doing another t-shirt in the future or something entirely different.

A:  This t-shirt is the smallest check mark I plan to check off. It's my way of saying its "our" time. When I say "our", I'm speaking for all of the other kids that know how important this issue is and are ready to tackle it with their creativity and talent. The future of our planet is in the hands of this generation. A t-shirt cannot save the world. Great ideas can. This is step one of a much larger plan for making "sustainable fashion" become "fashion". In other words, the need to say "sustainable" will be unnecessary because it will simply be the way it is.
The problem has been identified. It's up to us to solve it and I look forward to being a part of the solution.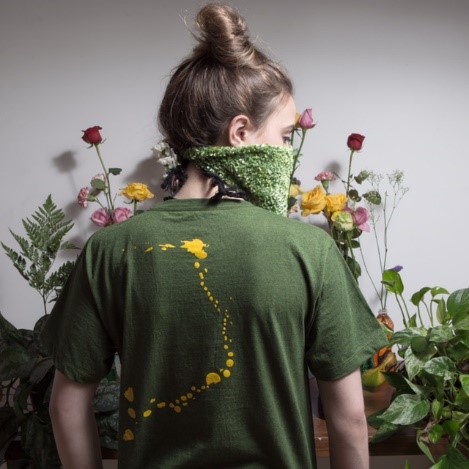 Devin, thank you so much for taking the time to chat with us. We look forward to hearing about the changes you bring about in the industry. You can check out the 2020 Vision tee here.  When purchased 20.20% of the profits from the tee go back to The Island School itself.