When people think of Island School they usually think of the sustainability, kayak trips and maybe even lightning position, but rarely do we think of the run and swim tracks that accompany our daily routine.
The six o'clock wake up time may be brutal but once we are out the door the energy of the morning sun soon energizes the faces around morning circle. However, the real fun starts after circle when we go off into our chosen tracks to either run or swim.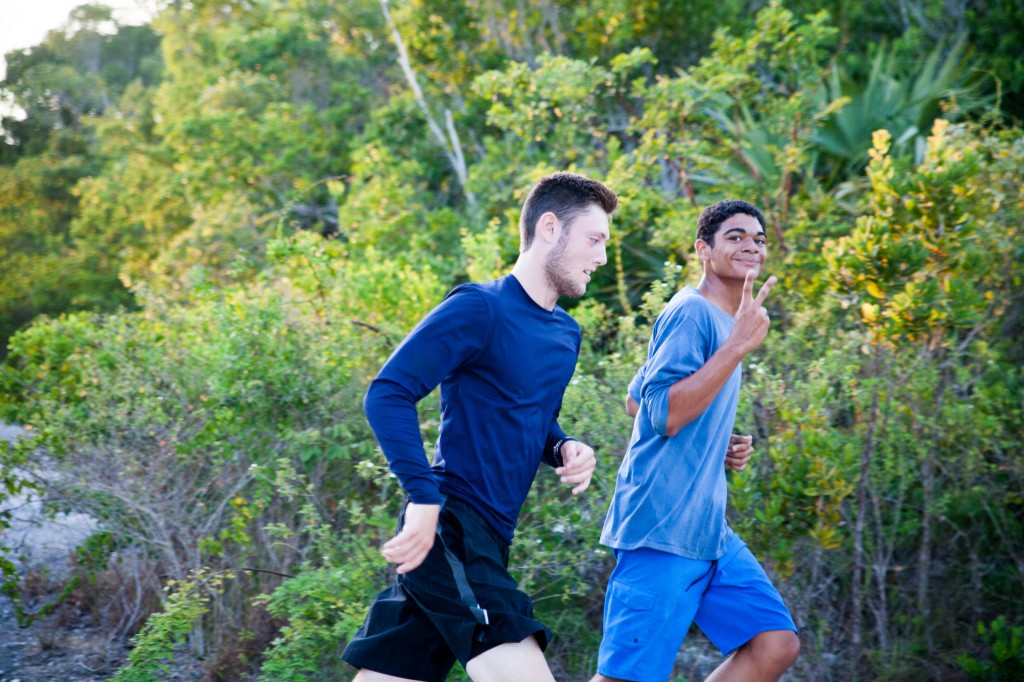 Run starts off with a little warm up around the horseshoe: generally a light jog dotted with stretches for the running muscles. Then we often head off of campus for the two miles to High Rock across the Cape. The path is a snake of concrete road which has even more potholes than the average Bahamian road. The run can seem endless with a false sense of hope, encountering decoy turn-offs to High Rock around every corner. Almost as soon as we complete the journey there, we'll then turn around for the two mile return trip back to campus where the flagpole finish line greets us with a familiar feeling of satisfaction.
Similar to run track, swim track starts off with some stretching before their early morning plunge into the ocean. Now that it's the third week of tracks, our classmates are now up to a mile-long, "Pole Swim" from Boathouse Cut to the Marina pole, usually they are given twenty minutes to swim there and 20 minutes to swim back. Much of the time swimmers encounter a current that can either make you feel like Michael Phelps or like you are actually swimming backwards, depending on the tide.
Both tracks show great energy and focus for their respective goals–to run thirteen miles for run track or swim four miles for swim track. What may have seemed like an impossible task in the beginning is slowly becoming possible with hard work and dedication, just two of the many qualities The Island School will instill in each student over the course of the semester.