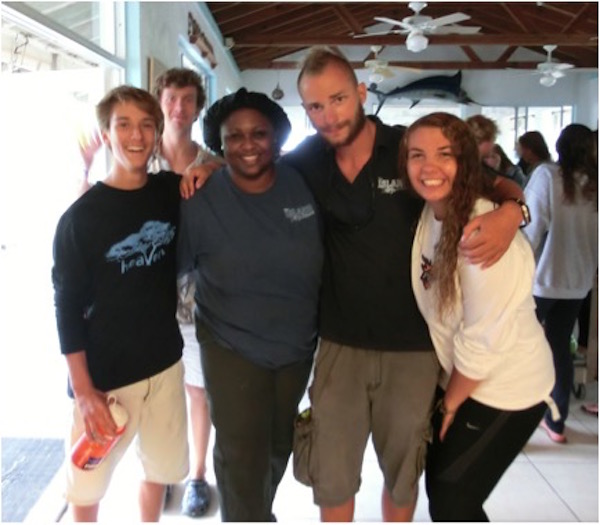 Last weekend, Peter Z pulled four of my fellow Boys Dorm residents and I aside. After breaking a rule earlier in the semester, we were due for a punishment. At the time this punishment seemed like the end of the world. I was terribly angry at my early-in-the-semester self for having broken a rule. In my mind I had lost 10 hours of my Island School Experience.
But The Island School is full of surprises; it finds a way to make punishment one of the outstanding experiences of the past week. On the Sunday after exploration there was a free afternoon, exploration from 1:15 until 6:00. It was the first of my three days of punishment. I can imagine the frown that must have been on my face as many of my friends rode past me on their bikes off campus.
Our first task was to move dozens of chairs from the dining hall across campus to CSD. After a few sweaty trips, we ran into facilities team member Arlington. Arlington lives in the nearby settlement of Rock Sound, and is recognizable by the tower of dreadlocks that he hides underneath a red, green, and yellow column of cloth and his warm demeanor. Immediately recognizing our struggle, Arlington offered to give us a helping hand. He made time in his day to  bring his flatbed truck around to the dining hall so we wouldn't have to carry more chairs. This first task became a few truck rides, mixed in with conversations with Arlington about life and morality. For the next three or four hours, we were scheduled to help out the kitchen staff. For me, the first hour of this period was really hard. For all that time, I was hunched over scrubbing mold from a brick corner of the dishes area where faucets fill up dish buckets. As I worked up a bit of a sweat and got my elbows dirty, I had some time to really reflect on what I had done wrong.
After we were done with the dishes area, Mooch (our head chef) surprised us with some leftover corn fritters. We shifted our efforts to helping our beloved kitchen staff members Mooch and Derece to organize the walk in fridge and freezer. While we worked, everybody's mood improved. Mooch and Derece started acting goofy, then we started acting goofy, then everybody started laughing and joking as we worked.
Although we see Mooch and Derece are around campus a fair amount, I felt like I hadn't had the chance to really get to know them. During this punishment, I got to see a side of them that I had no idea was there and that I'm so glad I found. When we finished our work it was about 4:00- there was 2 hours to spare. Instead of going back to Boy's Dorm, us five boys stayed in the kitchen. We lost track of time as we joked and gossiped with Mooch and Derece over leftover cheesecake and mangoes. I can honestly say it was one of the most hilarious hangouts I've had in a long time.
As the culprit, it can be tough to take a step back and appreciate disciplinary action. But The Island School managed to make punishment hard enough to provoke healthy reflection about my rule-breaking attitude while at the same time making it a meaningful experience. Losing Exploration Time for me was not the same as wasting time at The Island School, it was a time for me to further explore a part of The Island School that I had not yet grown to appreciate.
-Cole Triedman