Several days a week, students have time dedicated in their schedule to "exploration" of the local area. Here are two takes on the value of that time.
The Island School is situated beside an area that was formerly a resort. The resort opened in 1972 and included cottages, a clubhouse, water towers, and a golf course. Sadly, the resort went bankrupt in 1984 and no longer exists, however the structures still do. Once you brave the 4:15 pm sign-out line in the faculty office, and push your way through the mob trying to get helmets, you are home free on your way to exploration. The classic exploration routine is to hop on your bike, get to the Marina Store as fast as possible, buy indulgence food, then head to sunset beach. While we all need that once in a while, exploration time is named such for a reason. My most memorable exploration times have consisted of exploring the abandoned area. Whether it be walking through the concrete ruins of the former resort, or sitting in the hammock at No Name beach looking for sharks, exploration time never disappoints. One of the best exploration times that I have had was a couple Sunday's ago. A group of about 14 of my friends and I spent the day exploring the inner loop, snorkeling, and devoting time to new places. The day consisted of trying to get lost in the inner loop, exploring high rock, getting a communal snack, and then heading to sunset beach to play beach volleyball, swim, and lay in the sun. That is a typical exploration time for Island School students, a 'tingum' we will remember for the rest of our lives.
-Olivia Rask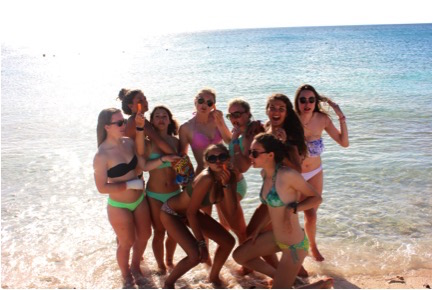 Here at the Island School, we're lucky enough to be the recipients of unfettered freedom. There aren't many other places where, three times a week (or less if we have yet another deep clean), the adults responsible for your wellbeing tell you, "Have fun exploring the wilderness!" That allowance of our own time—truly doing what ever we want to do—is incredibly freeing. However, at the Island School, that freedom can sometime flicker and disappear like a mirage. Most of the time we are working hard, nose to the grindstone, with everyone stressing out about the workload that is put upon the student body. In our three study hours, there is always just enough time to finish everything to you to get done, but it's always a constant struggle to get to that next paper or homework reading. Even though it's hard, I think that our curriculum here is one of the most interesting things I've ever been a part of. Our full understanding of the place we live in is refreshing. Despite the fact that we are pressed into this hard schedule, and that's why it feels so good to get time to unwind and explore.
-Hal Triedman