Fall 2011 alumna, Tessa Tracy, returned to her high school, Cambridge Rindge and Latin School, after her semester and needed a way to channel her Island School energy before she started to lose it. Therefore, she started the school's Marine Conservation Club. In no time, the club had 40 members and was meeting on a weekly basis, under the supervision of faculty member, and IS Teacher Conference participant Paul McGuinness, who directs the Marine Science program at CRLS. Their focus for the 2012-13 school year was on the North Atlantic Right Whales whose population has dwindled to less than 500. To raise money for the endangered species, Tessa, as the Marine Conservation Club's President led the group in organizing fundraisers, holding a dinner hosted by a club member's family, wrapping christmas presents at a toy store, selling snacks during classes, and setting up potluck lunch sales. In the end, they raised $1,300 dollars and donated all of it to the New England Aquarium Right Whale Research Program. More donations to this program can be made here. As a result of all of their hard work, the Marine Conservation Club was nominated and selected for a 2013 New England Aquarium Ocean Stewardship Award. Below is a photo from when the club donated the money to the New England Aquarium: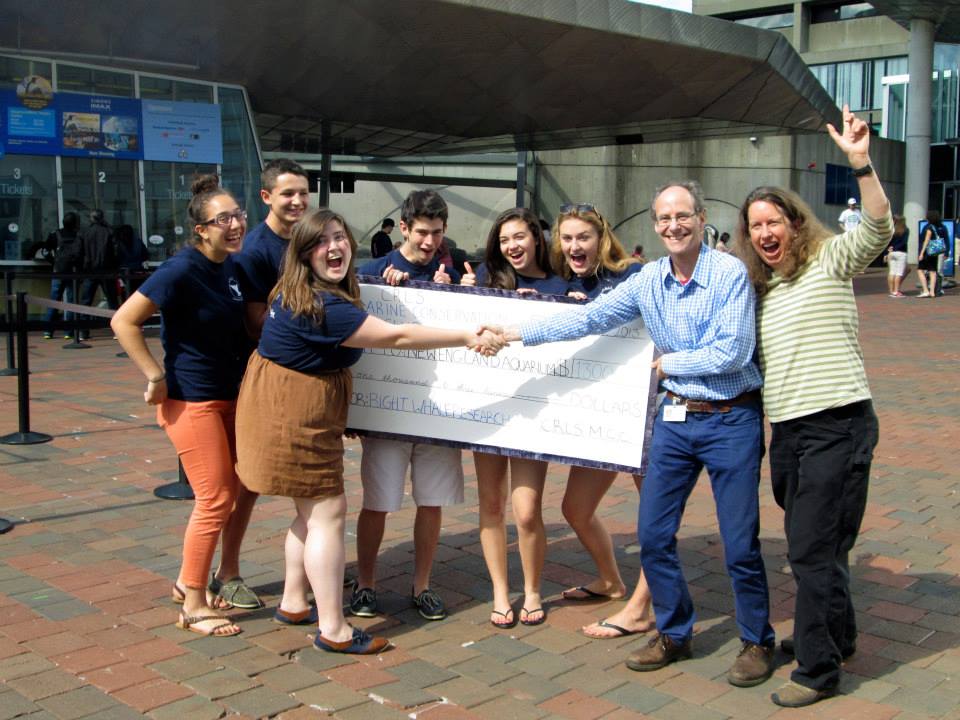 Outside of fundraising the club has done a lot of advocacy work including making a video, getting signatures for a petition to regulate boat paths in Right Whale habitats, and writing letters to senators. Something they were especially proud of was organizing "whale week"  where they set up activities in homeroom everyday for a week, like jeopardy or a video. They also organized an event each day like a food sale or "whale a capella". In the future, they hope to do outreach in Cambridge's middle schools.
In addition to leading the club, Tessa's role as president required her to create PowerPoints and handouts for meetings, running meetings, and delegating tasks to her 5 other peers on the leadership team. Tessa says that "the most exciting part [of starting the club] has been seeing how dedicated some members have been even with no prior experience or interest in marine science."
If you are interested in donating to, providing advice, or have questions for to the Cambridge Rindge and Latin Marine Conservation Club, you can email crlsmarineconservationclub@gmail.com or Tessa directly at  tessatracy@gmail.com. Next year the club is focusing on sharks and are very excited!